Clinic Care
We are proud to present the ninth edition of the International SOS health magazine, Clinic Care.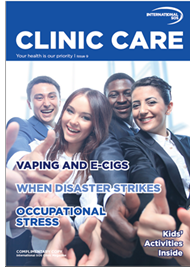 Promoting general awareness on health and wellness, our Clinic Care Magazine provides information and advice from our very own experts.
This edition is jam-packed with insightful topics that can benefit our clients, employees, and their families.
Readers can learn about non-communicable diseases (NCDs), which are the leading cause of death and disability worldwide. There are tips on how to cope with work stress, and the effects 'vaping' has on our bodies. We provide advice on how to cope with natural disasters, e.g. personal safety in disaster areas, as well as food and water safety.
Download the full edition here.
We hope you are able to use Clinic Care as an educational reference guide as well as a tool to improve your own health and those of others.

Our doctors provide medical assessments to evaluate a person's physical and mental health in addition to assessing the health impact of the hazards particular to each specific worksite environment. Education and the access to information are very important to ensure a healthier, more stable and productive workforce.
Prevention through the correct care is what we aim to promote through this edition by providing information and valuable tools to you, your family, employees and companies.